Featured Speakers:
(click photo to learn more)
Robert Moss
Sandra Ingerman
Sergio Magaña
Kahontakwas Diane Longboat
Dr. Sharon Blackie
Dr. Enjolie Lafaurie
Dr. Andrew Holecek
Adriana Ayales
Bhaskar Banerji
Jean Shinoda Bolen, MD
Dr. Clare Johnson
Dr. Gayle Delaney
Paul Levy
Linda H. Mastrangelo, LMFT
Dr. Joshua Black
Stanley Krippner
Dr. Janet Piedilato
Jane E. Carleton, MA, GG
Darlene Viggiano
Stephen Aizenstat, PhD
Dr. Angel Morgan, PhD
Fariba Bogzaran, PhD
With Host:
Kimberly Mascaro, PhD
Somatic Psychologist, Author, Dream Expert
Beholding our world in a state of turmoil, it can seem like we're descending into a collective nightmare.
With worsening environmental disasters... continued health and economic uncertainty rippling across the globe... and mounting social unrest and political turmoil, many are disoriented and mourning the loss of normalcy.
In the realm of dreamwork, nightmares serve as important messengers, prompting the sleeper to awaken — not only from the dream, but spiritually and personally as well. Learning to unlock the deeper meaning of your dreams, especially the frightening ones, can illuminate a pathway through the confusion into clarity, peace, and renewed vision.
As a collective, we can choose to view these challenging times as an invitation to dive deep... to uncover and work with our shadow side and the things we need to wake up from.
Exploring your dreams can help you unveil inner wisdom that's been clouded by the stressors of your waking life. And it can help you access your intuition — a source of clarity, guidance, transformation, and the key to manifesting what you need to navigate these difficult times.
Dreamwork can help you imagine and live a new story for your life. It can help you transmute fear into self-compassion, courage, and better understanding of yourself and others.
The Dreamwork Summit is here to help you develop a healing relationship with your dreams. When you befriend your subconscious mind, it can provide you with clues for your next steps... and unique insight into the state of our world.
You'll discover ways to hone your discernment — while sifting through excess "psychic noise" — and sharpen your intuition.
During this 4-day free online event, you'll explore a variety of dreamwork methods that can help you re-frame and work through painful experiences, ease stress, and provide new perspectives on your challenges — and even break through lifelong blocks to start living the life your soul intended for you.
Join more than 20 master dream teachers — including Robert Moss, Sandra Ingerman, Sergio Magaña, Kahontakwas Diane Longboat, Sharon Blackie, Andrew Holecek, and Paul Levy.
They'll provide you with expert insight and powerful practices to access the archetypal wisdom, power, creative inspiration, and self-empowerment hidden in the images, landscapes, and messages of your nighttime dreams.
Whether you're new to dreamwork or a seasoned dreamworker, psychologist, healer, or spiritual practitioner, you'll discover exciting new practices (drawn from up to eight different dreamwork paths) for turning to your dreams and imagination for guidance, healing, and inspiration.
The expert dreamwork practitioners in this summit will give you ways to deepen your connection to spiritual realms and the ancestors — and expand the possibilities for your life.
You'll learn about natural dreaming, lucid dreaming, and shamanic dreaming, plus you'll discover dreamwork as a vehicle for making meaning in difficult times, as you reap the important insights and guidance your dreams offer you each night.
Dreamwork is Soulwork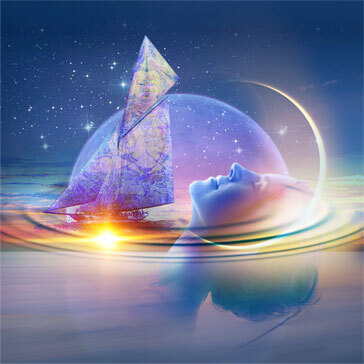 Dreamwork is an invitation to gently uncover your psyche's rich repository of symbols, colors, sensations, and images… discovering limitless resources for alchemizing life's "nightmares" into gold, and uncovering who you really are — and can become — beneath your waking mind.
Dreamwork can help you cultivate courage and enrich and enliven your everyday life in amazing and surprising ways…
Exploring your dreams opens the door to a new connection with yourself and your powerful capability for inner knowing. It's the work you need to do to bring your soul's wisdom into the light of day.
Here's some of what some of our celebrated speakers will be sharing with you:
| | |
| --- | --- |
| | With Sandra Ingerman, you'll learn to decode prophetic dreams and understand how you can ask for guidance in a dream by working in "The Land of Dreams." |
| | Learn the 9 keys to understanding your dreams, taking action to apply their guidance and embody their healing creative energy, with Robert Moss. |
| | Sharpen your ability to discern true vision from false messages with Kahontakwas Diane Longboat, who'll share ways to live your dream messages and fulfill the visions you receive. |
| | Sharon Blackie will introduce the practice of "dream-weaving," her unique active imagination process — and the ways it can help you connect with the spirit of a specific place. |
| | With rainforest herbalist Adriana Ayales, you'll experience a deep immersion into the powers of the pineal gland... and discover which teas, elixirs, and smudging plants to use before sleep. |
| | Dr. Enjolie Lafaurie & Cihuapactli Collective will discuss dreams from a Latinx and Indigenous perspective, focusing on the cultural interpretations and implications of visitation dreams. |
| | Andrew Holecek will offer wisdom about liminal dreaming, lucid dreaming, dream yoga, sleep yoga, and bardo yoga... which together create a unique form of "night school" — offering huge transformative potential. |
| | Join world-renowned healer Sergio Magaña as he describes the transition to a new time according to Toltec and Aztec wisdom, and explains why this is THE time to learn to create your life through dreams. |
| | And much more! |
Discover the Healing Powers of Dreamwork
The Dreamwork Summit can be incredibly beneficial for ALL. As you delve into the multiple modalities presented by our seasoned teachers, you'll understand more deeply how your soul's longings emerge — and how your truest self is unveiled in your dreams.
During this seminal 4-day event, you'll discover:
The latent power of daydreams, visions, and synchronicities as sources of spiritual development
The richness of active imagination and hypnotic dreamwork when facing crucial life transitions and transformations
How Gestalt psychology, dream psychodrama, and improvisational dream theater can intersect to help dreamers find insight, health, healing, and wholeness
Ways to craft a shrine in a loved one's memory as a way to process, honor, and continue the relationship
Four lucid states and how we can tap into them for deep healing
How your dreaming mind wants you to heal and will do everything in its power to guide you to transformative solutions
Qualities of visitation dreams, and how shrines can be used as a portal to meaningfully connect with deceased loved ones
How images of gems, jewelry, and other talismans can bring gifts to a dreamer who values them
A poetic dream synthesis technique
The "levels of dreaming" from Toltec and Aztec wisdom
And much more!
You'll be in good hands with summit host Kimberly Mascaro, PhD. Kimberly, a psychotherapist who's worked in the fields of mental/behavioral health and in higher education for over 20 years, is certified in guided meditation and hypnotherapy. Her primary focus is on wellness and women's issues; she specializes in treating trauma, anxiety, grief, and loss, and helping clients navigate life's big transitions.
Here's what participants had to say about previous years' Dreamwork Summits…
"I was able to make meaningful strides forward."
I really appreciated the opportunity to jump start my dreamwork practice. The sessions were thought-provoking and mind-expanding. The varied approaches to the work allowed me a chance to consider the work from many angles, helping me to find the path that made most sense for me. In this short amount of time, I was able to make meaningful strides forward.
— Wes D., Seattle, Washington
"I learned so much that supports me as a dreamer and psychotherapist…"
What an incredible gift to share these sessions with us — profound, heartfelt, inspirational, and deeply healing and supportive! I learned so much that supports me as a dreamer and psychotherapist, and have already applied the information to sessions with the community I work with. Thank you!
— Ziska Garcia, Puako, Hawaii
"… tools to go deeper in understanding and healing.
This was great. I've always been fascinated about dreams, but never got any further than the classic "what does your dream mean" book in the library. Here were some very good insights and tools to go deeper in understanding and healing. Thank you and blessings.
— Elisabeth, Belgium
"I have been doing dreamwork for 20 years and still I found so much more information…"
I have been doing dreamwork for 20 years and still I found so much more information in the summit and learned a lot!
— Jess, Mexico
"It opened my eyes up to much more of what our dreams might mean [and] how we can use them…"
The Dreamwork Summit came to me in perfect timing as I had began consistently having dreams that I wanted to interpret. So I was pleased with the wealth of information that was presented. It opened my eyes up to much more of what our dreams might mean, how we can use them, and ways to become more present in them. I'm thankful for all the speakers and I'm glad I have new resources to turn to for additional insight.
— S. Loyd, Decatur, Georgia
"I had never imagined that my dreams are the key to understanding my current emotional, physical, and energetic states…"
I had never imagined that my dreams are the key to understanding my current emotional, physical, and energetic states, and that I have the power to work with my dreams and transform myself. That's an eye-opener. I have already started to implement simple techniques shared by various speakers, and am feeling good about it.
— Nidhi, Gurgaon, India
"I never realized the power and potential dreaming gives you."
I never realized the power and potential dreaming gives you. This truly is a gift and I am definitely going to use it. Thanks so much!
— Kristy Blomquist, Canada
"I have stepped into a dazzling new world of opportunities…"
I feel that I have stepped into a dazzling new world of opportunities with a myriad of options to explore. It was a fabulous introduction to a heap of modalities I was unaware of, with the website links of all speakers provided making it really simple for further exploration. Thank you for providing this wonderful opportunity.
— Ellen, Australia
"I now feel part of an international tribe of dreamworkers…"
I am stunned by the breadth and depth of the interviews. I have been working with dreams of my own, and with clients and groups for many years but have felt quite isolated in the work. I now feel part of an international tribe of dreamworkers and feel inspired to develop and expand the work! I learned a great deal from speakers who have a different perspective from my own, and also feel clearer about my own gifts and experience. Thank you, this was so unexpected and I am filled with gratitude.
— Jacqui Chandler, Cornwall, United Kingdom
Co-Sponsors